Fulham Irish head to Castlebar to take on Mayo champions Ballina Stephenites determined to end London's long wait to win that 'next game'
By Damian Dolan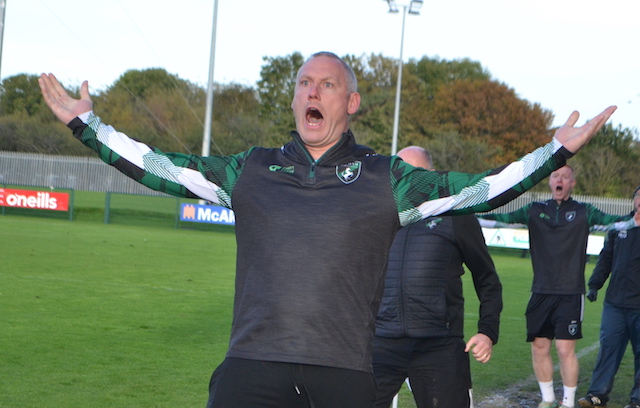 Lorcan Mulvey will be out to make another impact on Connacht when he takes his Fulham Irish side to MacHale Park, Castlebar, on Saturday, looking to pull off a club championship giant-killing when they face Mayo champions Ballina Stephenites.
The Londoners will be heavy underdogs, but there's nothing the Cavan-native likes better than ripping up someone else's script.
Indeed, it's ten years since Mulvey was part of the London senior football team which reached a historic first-ever Connacht final at……MacHale Park, of all places.
Mulvey, who'd played senior for Cavan for eight years up until 2010 before making his London debut in 2012, scored 0-7 (6f) in a losing cause against James Horan's fine-tuned Mayo outfit.
For his part in London's sensational summer of 2013, Mulvey was nominated for an All Star – only the second-ever London player to receive such recognition.
He scored vital goals in the wins over Sligo and Leitrim and finished with a personal haul that summer of 2-18(13f).
On Saturday evening, he'll return to MacHale Park only this time as manager of London senior champions Fulham Irish.
The challenge before him is just as big as it was ten years ago, and if that wasn't enough, history is also stacked against Fulham.
Not since the British champions were first admitted into the All-Ireland Club SFC in 1975 – and then exclusively the London winners from 2004 – have they managed to conjure a victory.
To win that 'next game' against a team from 'home'.
Since 2018, the next port of call for the London champions has been Connacht. But a change in competition has brought no change in fortune.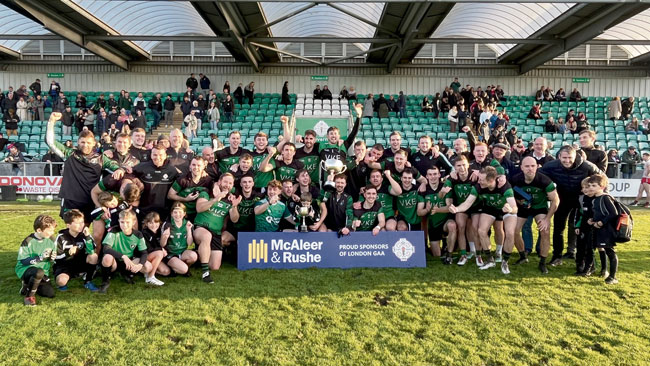 At least, not yet. For all Mulvey sees is "an opportunity". Why not Fulham Irish, and why not now?
Ten years on from London's extraordinary summer, Saturday's game in Castlebar offers the chance to achieve another very notable 'first'.
"Winning that 'next game' is a wall that nobody's climbed yet, and that probably epitomizes how difficult it is," says Mulvey.
"But you have to take your first steps, keep some positivity, prepare as best you can and give it as good a shot as you can.
"Nothing's impossible and we have to go at it with that attitude."
He adds: "It's definitely an opportunity, and I wouldn't be looking at it too negatively. I think there's a chance there. Historic motivation is definitely a key factor for us.
"There's still another gear in us and if we tap into that we'll definitely have an opportunity that we don't want to spurn.
"You have to battle through another London championship to get that opportunity again, and there's no guarantee you're going to win a championship again, so you need to make these opportunities count when you get them."
Around the same time two weeks ago that Fulham were beating Tir Chonaill Gaels to claim London senior title number four, Ballina were holding off Breaffy by 0-6 to 0-4 at MacHale Park to claim their first Mayo championship since 2007, and their 37th in total.
They're a club with huge pedigree.
So as bullish as Mulvey is about his side's chances, he's also acutely aware of the challenge that awaits them.
"They've definitely got quality footballers in their ranks. They've not been conceding a lot of scores, so their defence is obviously their strength and will be difficult to break down," he said.
"But we will draw up a plan and try and go to Mayo and execute that plan."
Fulham Irish were the last London champions to try their luck in the All-Ireland SFC in 2017, before London entered Connacht.
Tir Chonaill Gaels and St Kiernan's have both previously tried their luck to no avail, but this will be Fulham's first attempt having been denied the chance in 2020 due to the pandemic.
"Somebody, someday, is going to do it. There's no doubt in my mind. Whether it's ourselves or another club, it will definitely happen. The gap is closing all the time," said Mulvey.
"The way they (players in London) apply themselves and prepare for games is no different to any club at home, and that puts you on the same playing field.
"And if you get your performance right on the day there's no reason why someone's not going to do it.
"Mayo are a good calibre obviously; their county team are always in and around an All-Ireland and that's backed up by a good club scene, but you can only put 15 players on a football pitch."
Peak performance
Fulham head to Castlebar on the back of securing title number four with a 0-11 to 0-8 victory over Tir Chonaill Gaels at McGovern Park.
After stuttering against TCG in the group stage, Fulham got better with every performance after that.
They looked to be heading out, though, when they trailed three-in-a-row chasing St Kiernan's in the semi-final by five points with two minutes to go, only to narrow the gap to the minimum before a head injury to Fulham's Fiontan Eastwood forced the game's abandonment with just 80 seconds remaining.
Fulham impressed in winning the refix and they proved a far different proposition for TCG in the final, to the one the Gaels had seen off convincingly in the group stage.
"In the dressing room before the final I asked how many guys have got an actual senior championship medal, and not even half the room put their hand up," he said.
"There was definitely a determination to go out and get one for the guys that didn't have one."
Mulvey admits they've had the "the rub of the green" along the way at times, but you have to "be in a position to be able to get it over the line". And Fulham have done that.
"We've definitely gelled together as a group over the last seven or eight weeks. We've been getting better week in, week out," adds Mulvey.
Defeat to TCG in the final two weeks ago would have been Fulham's third on the bounce, having lost out to Kiernan's last year and in 2021. It would have also made it five losses in the last seven county finals.
An unthinkable scenario for Mulvey, who took over as Fulham manager in 2020 from Tyrone great Owen Mulligan.
This year was all about "peaking at the right time".
"We were staring at losing three in a row. We didn't want to be known as the semi-final specialists," said Mulvey, who has been part of Michael Maher's London senior football set up since October 2019.
"Looking at previous years we'd peaked in the group stages, and then started to fall away.
"We weren't probably giving the group stage [this year] as much of a belt as we had in previous years, so that we would be ready and rocking and rolling when semi-finals and finals came around.
"It paid off thankfully, but it's a risk that could go the wrong way too."
Right mix
For Mulvey, Fulham's success this year has been all about getting the "mix right" – the balance between the old guard and the new blood.
Foremost of the team's stalwarts is Marty Hughes (Bredagh, Tyrone), who is the only playing survivor from the club's breakthrough senior title in 2011 when Fulham beat Parnell's by 1-8 to 0-7 under Liam Barry's management.
"That man (Marty Hughes) will keep going till his legs tell him no more. He's always putting his hand up to say, 'I want to play!'," said Mulvey.
Mulvey featured in that final too, as did Kilmacud Crokes' Niall Corkery, who'd played in an All-Ireland semi-final for Dublin the previous year. Corkery, though, was wearing the blue of Parnells that Ruislip day.
Twelve years on, though, Corkery finally got that London senior championship medal having joined Fulham this year.
David O'Connor (Bornacoola, Leitrim) joined the club in 2014, Hurl Dockry (Mallow, Cork) in 2015 and Liam Turley (Saval, Down) in 2016.
Hughes, O'Connor, Dockry, Liam Turley, Daniel Eastwood (St Paul's, Cork) and Liam Staunton were all part of Fulham's 2017 title win (the club's second).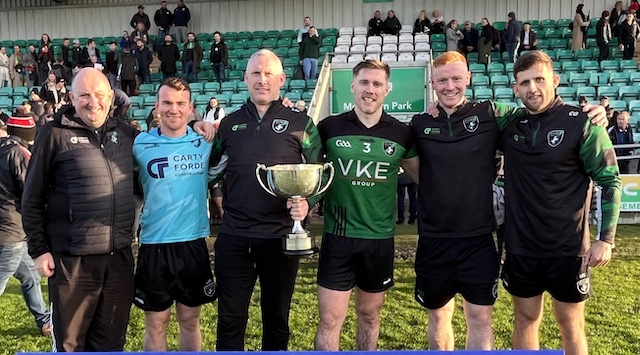 Staunton had won an intermediate Mayo championship with St Patrick's Westport in 2016, and alongside county star Lee Keegan helped the club go on and add an All-Ireland Club title.
The likes of goalkeeper Andrew Walsh (Clarinbridge, Galway), Paddy Naughton (Bhearna, Galway), Dave Connern (Tuam Stars, Galway), Chris Duggan (St John Bosco, Down), Daire Rooney (St Johns Bosco, Down) and Jack Goulding (Ballyduff, Kerry) were all there in 2020 when Mulvey managed Fulham to title number three.
London and ex-Kerry hurler Goulding won a Munster MFC title with Kerry in 2015, and scored one of Fulham's championship clinching extra-time goals in the 2020 final.
In pursuit of title number four the club added players like Niall O'Leary (Kilmacud Crokes), who played in an All-Ireland U20 final for Dublin, and Cormac Hughes who won Down IFC titles with Bredagh.
Other arrivals last year included centre half back Darragh Buckley (Ranelagh Gaels, Dublin), Fiontan Eastwood (Naomh Eanna, Antrim) and Michael Clarke (Saval, Down), who joined from Dulwich Harps.
2023 brought further reinforcements in the likes of DJ O'Flaherty (Clontarf, Dublin) and Conor Fox (Burren, Down).
They've helped to fill the sizeable void left by injuries to key men Matthew Walsh (Dungannon Thomas Clarkes, Tyrone), Conal Gallagher (St Johns Bosco, Down) and Owen Costello (Bredagh, Down), while Ronan Sloan (Atticall, Down) has returned to Ireland.
Four massive losses, which makes Fulham's achievement this year all the more commendable.
Walsh and Gallagher, though, have both put personal disappointment aside to step up as selectors this year.
"The two of them have rowed in behind me and they've been a huge addition to the management team, and behind the scenes John Doyle has been very good at organising everything for us," said Mulvey, for whom memories of 2013 are sure to be stirred on Saturday.
Arriving in to Castlebar, the drive to MacHale Park and walking into the same dressing room. The sights, the smells.
"You'd swear history was making things up!, says Mulvey. "That was a big day for London football," he reflects.
Saturday could be another very big day, not just for Fulham Irish but for London GAA at large, if the long wait can finally be ended, to win that 'next game'.
"Fulham never won a (senior) championship till I came along, and London had never got to a Connacht final. Let's write the next one," says Mulvey.
Perhaps it is time.