Joe Deacy's family still hope to see someone held accountable for what happened to Joe six years ago when on holiday in Mayo.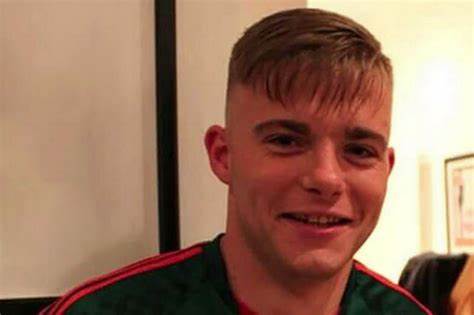 Hope is a word that comes up many times in our recent chat with Joe's father Adrian Deacy. Adrian says hope is all the family have left. They have been buoyed by the recent backing of the Irish Minister for Justice Helen McEntee and reassured by senior Gardai that the case will continue to be actively investigated.
This Sunday 13 August, it is six years since 21-year- old Joe Deacy of the St Colmcilles GAA club in St. Alban's died tragically while on holiday in Mayo. To this day no one has been charged with his murder.
To mark the occasion this Saturday will see a special memorial football match hosted by St Colmcilles who wil play against The Hammers, a team made up of Joe's friends and family. A yearly match in Joe's honour has been played every year since his passing.
Sunday will also see a group of family and friends of Joe walk to the house where he was found in Mayo to demonstrate that they are not going away and will keep going as long as it takes to get justice for Joe.
Joe Deacy was on holiday in Ireland when he was found with head injuries outside a house in Swinford, Co. Mayo, at 6.30am on 12 August 2017. He died the following day at Dublin's Beaumont Hospital. Gardai believe three people have knowledge of Joe's death.
During the night he was murdered, Joe had spoken with his cousin on social media at 3.45am after a night out. Detectives believe he was attacked following this call. He was found lying outside the property at 6am by a cyclist. Only one of the three main "persons of interest" was arrested. The other two were questioned but did not provide any information.
However while people with information don't come forward the family's torment goes on. Adrian says the family have had their hopes raised and then dashed by the Garda over the six years. "Unfortunately it comes around quicker every year," Adrian told The Irish World of the anniversary.
"It's a horrendous time of the year. We need justice for him. Someone needs to be held accountable. Here we are six years later. It's beyond belief. Six bloody long years and counting."
The family had a visit recently from the Gardai dealing with the case. There's always hope. That's all it is. We've had troughs and peaks of hope. We've been down this road before.
"Hopefully there is something but as I say until they arrest someone you never can tell, can you?"
Last year St Colmcilles, as well as Adrian and other family members, travelled to Mayo for the memorial match to mark the five year anniversary. Gardai were there speaking to people and that was encouraging for the family to see.
"It was nice taking it back to where it happened. It is always a reminder to the local community there that we're not going to give up. It was encouraging like that but that's a year ago and we're still in exactly the same position.
"Six years is ridiculous in a way. If it was six months, I would have thought it would be a long time let alone six years. You've got to have hope and you've got to trust the police. That could be misplaced but you've got to try and trust that they know what they're doing."
The investigation was bungled from the start. At first mistaking Joe's injuries to have been sustained in a fall, Gardai did not treat it as a crime from the get go and did not question suspects immediately.
"Without a shadow of a doubt, the guards have not covered themselves in glory over the six years, that's putting it extremely politely "It started shambolic.
"I'm hoping now six years later it's thoroughly professional. But it started, I can't even think of a word worse than shambolic but that's what it is. The investigation was a shambles from the start.
"But six years on and the guys in charge now I'm hoping they're going to do now a thoroughly professional job. Six years ago without a shadow of doubt they didn't do a thoroughly professional job."
The family have reasons for renewed hope in the support of Justice Minister Helen McEntee.
"We've got a lot of backing now. My two cousins met the Irish Minister for Justice last week so obviously they'll work through the channels that way as well hopefully to put pressure on the people involved to make sure that they don't slacken in their efforts. She seemed very nice, very sympathetic to our cause. She didn't have to take time out to meet them but she did and they spent an hour with her going through everything.
"She seemed very understanding and hopefully she'll be able to wield her influence. My two cousins were very impressed with her empathy just on a human level. She seemed extremely genuine that she would do all she could do."
The family remain in limbo not able to truly let Joe rest until someone is held to account. Every day it's the same. Every day you're hoping to hear from the police that they've got someone but we can but wait and see. That [hope]'s all there is, and the hope will never go.
"Hopefully now the police are more fine tuned into it than they have been previously and with the Irish Justice Minister hopefully making them even more aware of our need to get someone, that's additional hope."
The family surely hope that at some stage someone speaks up perhaps because allegiances have changed or they simply can't live with it anymore.
"We're doing a walk this year again like always up to where Joe was murdered."
Hopefully such a walk is not necessary again next year. "Yeah I'm delighted they do it. It might prick the conscience of someone over there. If nothing else, it irks anyone who was involved in it to know that it's still here."
Although there is support from Ireland as well, the family have encountered some opposition to their campaign.
The wider community definitely support but the actual local community not so much, as will be proven by the lack of local residents doing the walk next Sunday.
"There won't be too many people from Bohola or Swinton there. That's what we've had from day one. At best, it's apathy. At worst, it's a lot worse."
The Justice for Joe Deacy campaign have even seen memorials for Joe destroyed in the local area.
"We have a banner up at the end of the road and that's been destroyed a few times. But we keep putting it back up. They keep destroying it, we keep putting it back up."
How do you think they live with themselves? "I guess if you believe something long enough and hard enough you can eventually think it is the truth or forget it ever happened or whatever.
"It shows their respect, it's very respectful of the lads, they didn't have to do it, they don't have to do it."
"Otherwise if you woke up every day knowing the truth, surely it would drive you crazy. I don't know how they operate full stop but they obviously do. I'm hoping I won't have to put the email through to you guys next year saying, 'Please mention us, it's anniversary time'. [I hope] it will be resolved one way or another but six years is ridiculous."
The memorial match is held in memory of Joe but with an 'ulterior motive' of getting word out about the campaign for justice. Adrian hopes one day it can be held purely in Joe's memory.
"It's nice that the lads have the game. At the moment, there's always an ulterior motive to it and that's to try and get someone held responsible for what happened. Maybe when someone finally gets put behind bars, then the lads can have a game and have a more celebratory feel about it. It's not celebratory by any stretch. It shows their respect, it's very respectful of the lads, they didn't have to do it, they don't have to do it."
Adrian says the St Colmcille's Club have been tremendous in their support of the family ever since it happened.
"Tremendous. I can't fault them at all. From day one, they've been amazing. That's throughout the six years, again everyone's lives have moved on but they always give us their 100 per cent backing."
The family will continue as long as it takes to get justice. "Here we are. Hopefully – I keep using the word hopefully – Hopefully we have a far better team looking into it.
"And we've had reassurances from senior police that they were looking into it. They've reassured us that they weren't going to pull the case. Our obvious worry was at some stage they say, 'Right, that's it, can't do anymore. We've done our best'.
"They're never going to close the case but they can always say, 'We're not giving any more resources unless something comes forward'. That was our worry but we've had reassurances that's not going to happen, that they will keep on trying. Who knows? They might get a breakthrough tomorrow. We keep hoping."
Throw- in for the memorial game will be at 3pm this Saturday 12 August with the memorial walk on Sunday 13 August starting with N5 Kinaffe turning, Mayo at 2pm.