Púca Festival returns to Trim and Athboy in County Meath, from Friday 27 to Tuesday 31 October 2023 with a variety of music, comedy, myth and folklore on offer.
A stellar line up of musical acts includes Macy Gray, The Waterboys, The Charlatans, Damien Dempsey, Hothouse Flowers, Sharon Shannon, Hermitage Green, Jack Lukeman, Mack Fleetwood, The High Kings, Ennio Morricone Experience, Remembering Joe Dolan on his 15th Anniversary, and the Davina Devine Drag Show.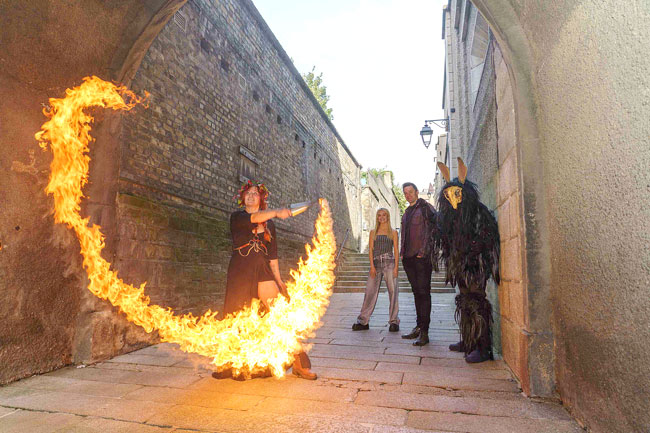 Púca also welcomes Niall 'Bressie' Breslin with his podcast Where is My Mind? Live. The podcast delves into the complexities of the human mind, exploring strategies to navigate the modern world's blend of beauty and chaos. Rory O'Connor, known as Rory's Stories, will join Bressie as a guest.
Comedy headliners will include Reginald D Hunter, Jason Byrne, Emma Doran, Gunther Introduces Waterford Whispers Live, Tony Cantwell, Shane Daniel Byrne, Sinead Quinlan, Sharon Mannion, Ross Browne and John Colleary along with support acts.
COMPETITION TIME
Five Sets of Tickets to Be Won!!
🎃WIN 2 Tickets to Púca Festival this Halloween!🔥
Enter Now and be in with a chance to WIN Two Tickets to The Charlatans & Hermitage Green, The Waterboys, Damien Dempsey and Fin Furey, Bingo Loco G-Rave Halloween Extravaganza, Macy Gray or Sharon Shannon.
Experience spine-tingling entertainment at Púca Festival this Halloween from October 27th to 31st in the towns of Trim and Athboy, Co. Meath. Enjoy five days of breathtaking music, myth, food, folklore, fire, feasting and merriment in the birthplace of Halloween, with a range of events on offer echoing the playful, celebratory nature of ancient Samhain traditions.🔥Tickets are on sale now! Visit Pucafestival.com🎃🎟️🧡
We have 5 sets of Tickets to give away!
Win Tickets to The Charlatans & Hermitage Green, The Waterboys, Damien Dempsey and Fin Furey or Bingo Loco G-Rave Halloween Extravaganza, Macy Gray or Sharon Shannon.
All you need to do is visit the Irish World Facebook page here, Like, Tag and Share! and you will have the chance to win one of FIVE PAIRS of tickets!
Púca Festival has been developed by Fáilte Ireland in partnership with Meath County Council, to celebrate Ireland as the birthplace of Halloween and to tell the origin story of Samhain or 'Summer's End'.
Samhain is a festival in ancient Celtic traditions marking the change in season as we move into the darker, colder winter months, celebrating community support, togetherness, and the fire light needed to welcome, and not fear, the coming dark. Historically a time of celebration, involving lighting fires, feasting on the crops of the harvest, music, gathering, and storytelling, during Samhain, the otherworld took centre stage, and the possibilities of a supernatural encounter ran high.
A familiar character in Ireland's narrative of Halloween, Púca is the shape-shifting character from Celtic folklore that lends its name to the festival, coming alive at ancient new year to roam the night and change the fortunes of those that cross it.
Púca Festival was devised to encourage more international visitors to visit Ireland during October and November, and to encourage domestic visitors to explore different regions of Ireland.
With over 36,000 visitors attracted to the festival in 2022, it brought over €3m in economic value for the local and national economy.
Welcoming the programme launch, Minister for Tourism, Culture, Arts, Gaeltacht, Sport and Media, Catherine Martin T.D., said, "I am very pleased to welcome the return of Fáilte Ireland's Púca festival for 2023, an important festival in our tourism calendar with a very exciting programme for this year. With projected revenue of €3million and more than 30,000 visitors expected this year, Púca Festival serves as a key economic driver for local communities and businesses across the Meath region. Halloween is a globally recognised holiday and Púca Festival is an excellent platform to promote Ireland as the place where it all began while offering a unique opportunity for both domestic and international visitors to experience the vibrancy and culture of Meath and the surrounding areas."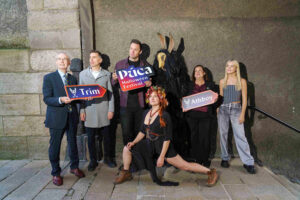 Orla Carroll, Director of Product Development at Fáilte Ireland said: "Fáilte Ireland is pleased to officially launch this year's Púca Festival today, celebrating Ireland as the birthplace of Halloween. Festivals are crucial to the tourism sector, motivating over 200,000 overseas visitors to Ireland and contributing €108million to the economy every year.  Our partnership with Meath County Council, local tourism and hospitality businesses in our festival hubs of Trim and Athboy continues to go from strength to strength, and we look forward to welcoming domestic and international visitors alike to experience Púca Festival 2023 and everything Meath and the wider Ireland's Ancient East region has to offer. As a major destination event in the tourism calendar over the coming years, we aim to motivate overseas visitors to travel to Ireland at off-peak times and disperse visitors to areas outside of traditional tourism hotspots, making a positive economic contribution to Trim, Athboy and surrounding areas of Co. Meath."
Fiona Lawless, Meath County Council, Chief Executive added: "Meath County Council is delighted to support the Púca Festival again this year with a very exciting programme of events.  I'm excited to see our unique folklore and Samhain heritage brought to life in new ways, and to continue working with Fáilte Ireland, the Púca team and local businesses to build on the success of previous festivals to support the tourism economy of County Meath. The local communities in Trim, Athboy, and surrounding areas are very much looking forward to welcoming visitors once more on what promises to be one of the biggest and busiest weekends of the year for Meath."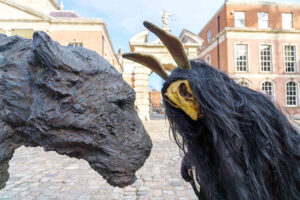 Martin Nolan, Púca Festival Director and Founder of MPI Artists said: "This is MPI Artists' second year rolling out Púca festival and we're delighted with how the programme has come together.  There's been huge interest from music artists, comedians and creatives who feel as strongly about the Festival as we do.  It's great to welcome international artists such as Macy Gray, The Waterboys and The Charlatans, as well as home-grown talent such as Damien Dempsey, Sharon Shannon and Jason Byrne to entertain the masses.  This year's opening and closing ceremonies are steeped in the authentic origins of Halloween in Ireland, and will guarantee spectacle and awe.  Given the fantastic feedback from over 36,000 visitors in 2022, we're looking forward to entertaining even more international and domestic visitors this October."
Find out more information and full details about the festival here
*T&Cs apply, see facebook.com/theirishworld or contact admin@theirishworld for full details